The Goldfields region is set to receive a significant boost to its manufacturing and building industries with the expansion of innovative modular builder Swanbuild into Bendigo.
Established in Swan Hill nearly 40 years ago, Swanbuild is one of Australia's largest regionally-based manufacturers of modular residential and commercial buildings. Construction is already well underway on the company's state-of-the-art, $5-million Bendigo base, with City of Greater Bendigo Mayor, Jennifer Alden, Deputy Speaker Maree Edwards (Member, Bendigo West) and Victorian Minister for Transport Infrastructure Jacinta Allan (Member, Bendigo East) touring Swanbuild's expansive one-acre warehouse in Kangaroo Flat on Friday.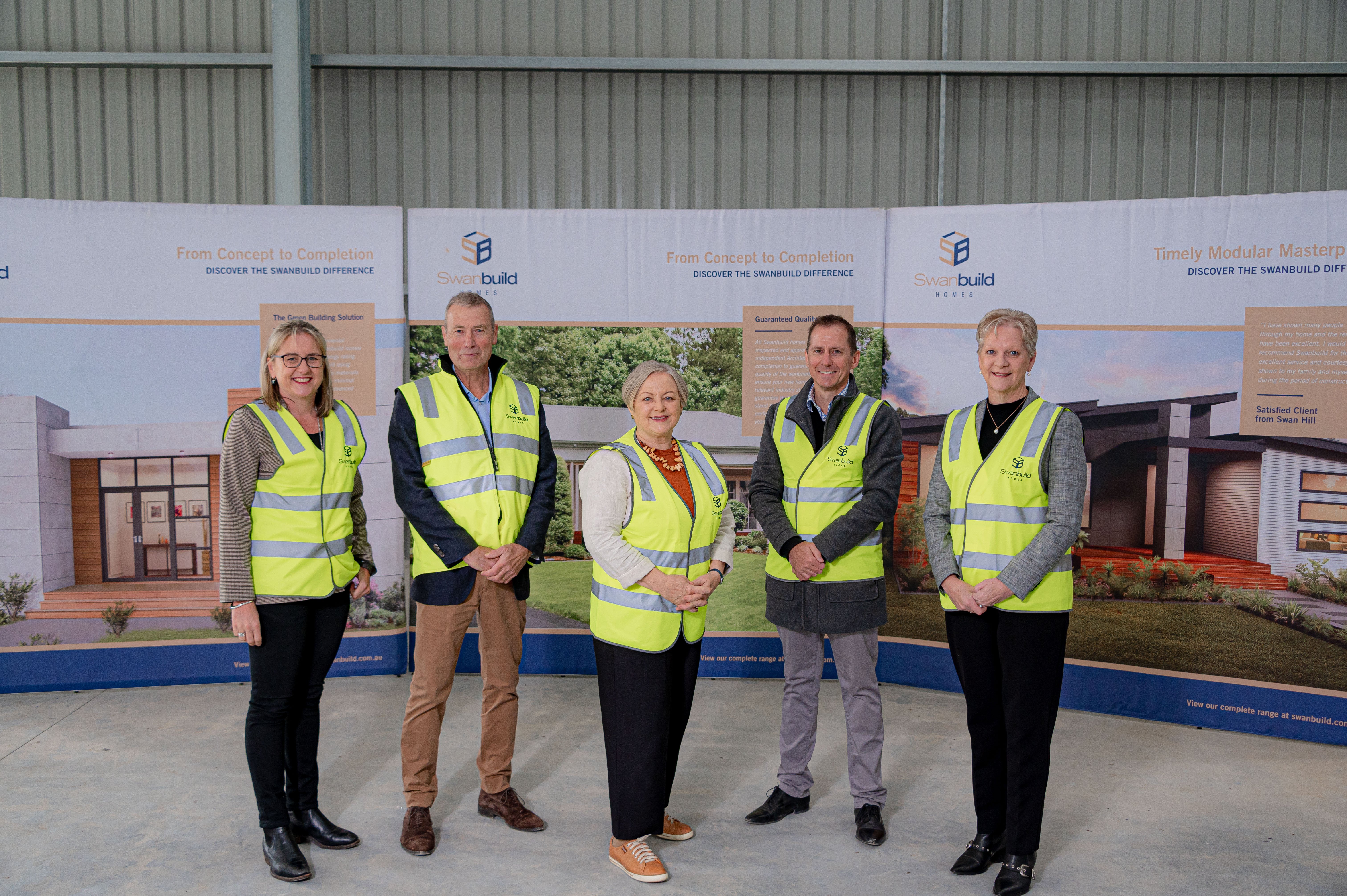 Cr Alden, said Swanbuild's expansion into Bendigo was a major coup for the region. "As Victoria's third-largest concentrated economic base, Greater Bendigo is attracting unprecedented outside investment in infrastructure, and our continued investment in facilities and services makes us a genuine alternative to living and working in Melbourne," said Cr Alden.
"Bendigo's construction industry is dealing with a surge in demand from our rapidly growing population and modular home construction gives incoming residents a fantastic opportunity to build their home in a short timeframe, and join our community sooner.
"Swanbuild's new manufacturing facility will bring considerable economic benefit to Greater Bendigo by driving local employment, particularly across the building and manufacturing sectors, and injecting significant investment in the region," said Cr Alden. "I anticipate it will also be a major catalyst for Bendigo's COVID-19 economic recovery, which is already well underway."
Justin Lloyd, Sales Manager of Swanbuild's commercial modular building division Pretect, said Bendigo was the obvious choice when the company was searching for a new factory location.
"From our very early investigations into Bendigo two years ago, the council here has been quick to embrace us, welcoming us with open arms, showing us available sites and introducing us to influential local business organisations," said Lloyd.
"Bendigo gives us the edge we need as a regionally-based business to compete on an even footing with Melbourne Metro-based competitors. We have been able to build our premises on our own block of land, which means we're not paying exorbitant rents, and the region offers us an employment pool of 120,000 people. Manufacturing is an employment-intensive industry and once this new facility is up and running, we will be employing upwards of 80 local contractors, plus a core full-time staff based here at Bendigo."
Lloyd said Swanbuild's $5-million investment into its new factory represented a long-term commitment to the region.
"Swanbuild has always been a regional Victorian business with a proud history of supporting its community other local businesses," said Lloyd. "Swanbuild injects $20-million into the Swan Hill economy annually, sourcing building materials and supply chain services locally, and we anticipate that the economy of Greater Bendigo will also see a significant impact within our first few months of operation."
Travis Hall, Sales Manager of Swanbuild's modular residential building division, Swanbuild Homes, said expansion into Bendigo would double the capacity of the business, enabling the construction of between eight and 10 modular buildings consecutively.
"Since COVID, demand for quality permanent modular residential and commercial buildings is at an all-time high in regional Victoria," said Hall. "Our new Bendigo factory location provides a fantastic opportunity for residential customers who are planning to relocate from Melbourne to build and customise their homes quickly, while maintaining close contact with the team at our Bendigo factory during the build process.
"The knock-on effect from increased residential demand regionally is an increased demand for quality permanent commercial construction such as schools and office buildings," said Hall, "and our Bendigo location enables us to meet local demand, while our close proximity to Melbourne enables us to maintain the high level of quality assurance for which we're renowned in the metropolitan areas that make up 50 per cent of our commercial customer base."
Completion of Swanbuild's Bendigo factory is anticipated to be completed by July 2021, and recruitment for a range tradespeople, sales and office staff has already started.