At Swanbuild, we're excited to launch Victoria's first transportable homes built on concrete slabs and will be adding this optional feature to all of our available home plans. Traditionally, our homes have been constructed on a durable, high quality steel chassis that facilitates easy off-site building and transport. In an innovative move to offer more flexibility, home owners can now opt to have their home built on a concrete slab while still enjoying the benefits of modular or off-site construction.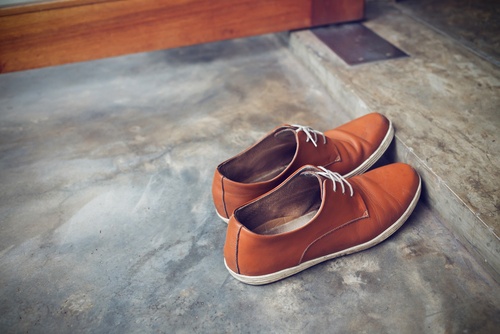 Why Concrete?
Although building on a steel chassis has proved to be an effective and economical method, precast concrete floors are a great premium solution for homes that have specific characteristics that would benefit from a concrete floor construction. Precast concrete typically lends itself to long spans as well as high load bearing buildings, facilitating even more flexibility in design. There are also a number of benefits associated with this flooring material including:

Durability
Concrete floors are extremely resistant to impact, weathering and abrasion, making them cheaper and easier to maintain.
A high fire-resistance factor makes concrete a great safety feature for your home.
The feeling of standing on "firm ground" is the strongest ever with an unwavering concrete slab.
Sustainability
By installing thermal mass under a floor, the energy rating of a home can be significantly increased. Precast concrete preserves energy and minimises the effect of temperature change on heating and cooling systems, resulting in significant cost savings.
Aesthetics
Precast concrete is able to facilitate the design process by eliminating common architectural restrictions. Concrete is a very reactive material that works well with countless designs and other construction materials, so your house plans can be as creative as you wish.
It's also possible to incorporate a polished concrete floor that will add a cool and modern feature to your home.
A concrete floor prefab home is relocatable at ground level with no need for ramps or rails.
After working closely with precast concrete experts, we have taken economical and versatile flooring solutions to the next level by combining the outstanding strength-to-weight ratio with fast, trouble-free installation. Home builders will still benefit from off-site concrete floor construction and have the option of choosing from additional on-site features and various finishes.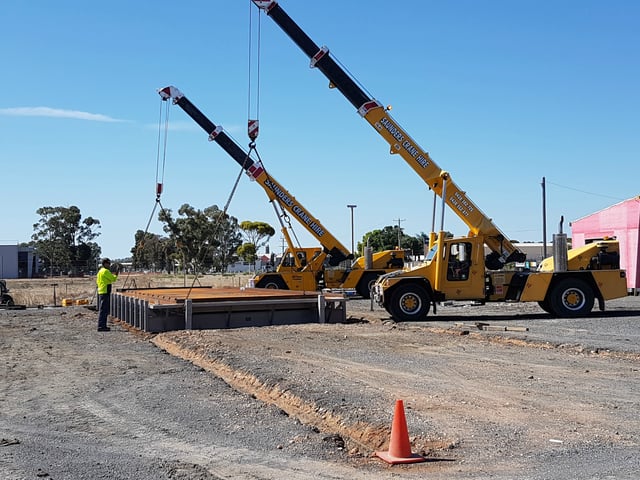 Our New Concrete Mould Being Craned Into Place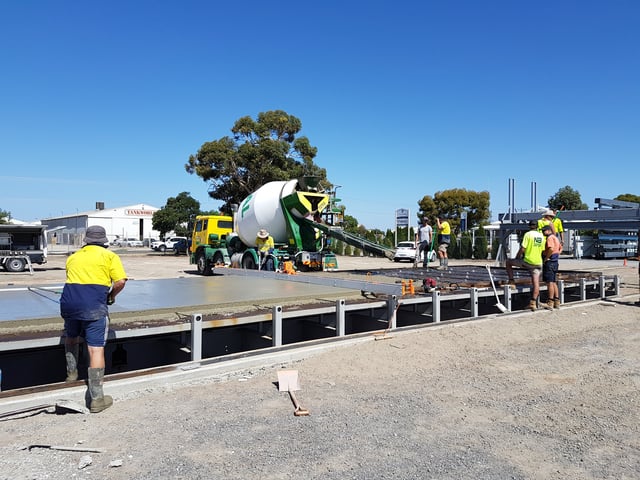 Victoria's First Modular Home Concrete Slab Being Poured
Contact us if you'd like more information or want to know if concrete floors are the right solution for your modular home.
---