Thanks to the many home improvement TV shows, the term "modern farmhouse" has become ubiquitous in recent years. Modern farmhouse style mixes old and new elements comfortably while creating a cozy environment that tends toward natural and nature-based elements. Let's look at several features that show up again and again when referring to modern farmhouse decor.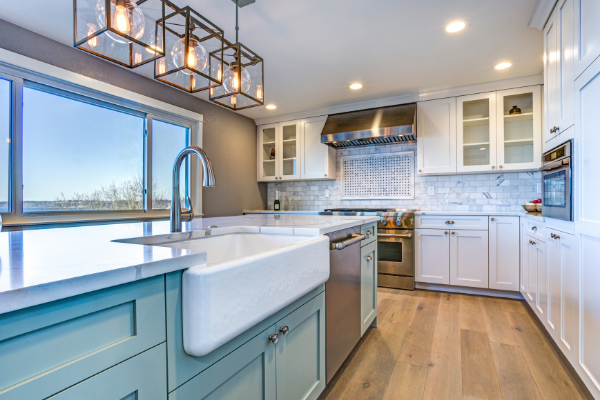 COLOUR PALETTE
The modern farmhouse embraces a simple yet high contrast colours scheme of blacks, whites, creams, greys, and other neutral colours. This does not mean that you have to forget about colour all together though. Use the simple colour palette as your base and bring in pops of colour through artwork, furnishings, and other small items.
TEXTURES
If you have a love for throw pillows and cozy blankets, you will never be able to have too many when decorating your modern farmhouse. The layering of throws on top of beds or multiple pillows on a couch or chair creates a sense of warmth in the room. The colours and fabrics of your pillows and throws should lean toward more natural textiles to help balance out the other more industrial or rustic elements in the home.
INDUSTRIAL DETAILING
The clean lines and simplicity of industrial styled decor mix nicely with the more warm and rich elements of modern farmhouse decor. The industrial pieces give a nod to the farm machinery and industrial farm pieces of the past. You can incorporate these industrial details with metal barstools or pendant lighting.
RAKED CEILINGS
Most of today's modern farmhouses incorporate a high, raked ceiling to capture the essence of the outdoors and bring it in. The higher ceilings add a sense of space to even the smallest areas.
TIMBER LINED WALLS
Along with modern farmhouse came the word "shiplap". Shiplap is a kind of wooden board that was once used for its hardiness to build barns, sheds, and other rustic building. No wonder it has become a staple of modern farmhouse decor! Using pine boards to line the walls can bring the shiplap look into your home, whether you decide to use it as a feature piece in a room or throughout the entire house.
OUTDOOR SPACE
Whether your home is looking out over a sprawling country hillside or just a small backyard, creating a comfortable outdoor space is important to the modern farmhouse look. Add elements like hanging chairs, comfortable seating, and lots of greenery and planters.
BRING THE OUTDOORS IN
With modern farmhouse decor's lean towards nature and natural elements, it only makes sense that you would want to bring some of the outside in. Distinctive and varied greenery and plants can really help to pull a room together. Don't worry if you aren't a master gardener, artificial plants work just as well as real ones, and save you the headache of trying to keep them alive.
KITCHENS
One of the most recognisable pieces of the modern farmhouse look is the large farmhouse style apron sink. The farmhouse sink is usually deeper than your regular sink with a single bowl for washing. Profiled cabinetry is another staple of the farmhouse kitchen with its simple, clean style, light-coloured finishes, and simple hardware.
DINING SPACES
Make sure the dining space in your modern farmhouse can accommodate a big, rustic wooden table for all of your family and guests to gather around. You can add an industrial element to the space with a pendant light or make it more glamorous with a large chandelier.
MUDROOMS
Many modern farmhouses have a separate mudroom with cabinetry to keep boots, coats, and outdoor items to prevent any outside dirt and mess from entering the home.
STOREROOMS
Modern farmhouses also often include a storeroom or larger pantry space. It is possible that your modern farmhouse could be further from grocery stores and other shops, so this space allows for bulk buying and stockpiling or preserving your produce without adding extra clutter to the home.
If you are looking to find the farmhouse that is just right for you, contact Swanbuild and our team can help you customise a plan to give you your dream home!